At Lambert's Ranch, my wife Gina and I share our passion for Brahman Cattle. We've been in the cattle business for over 25 years and our experience shows in the operation and production of our ranch. Our mission is to ethically breed and raise sturdy Brahman. Here's how we got to where we are today.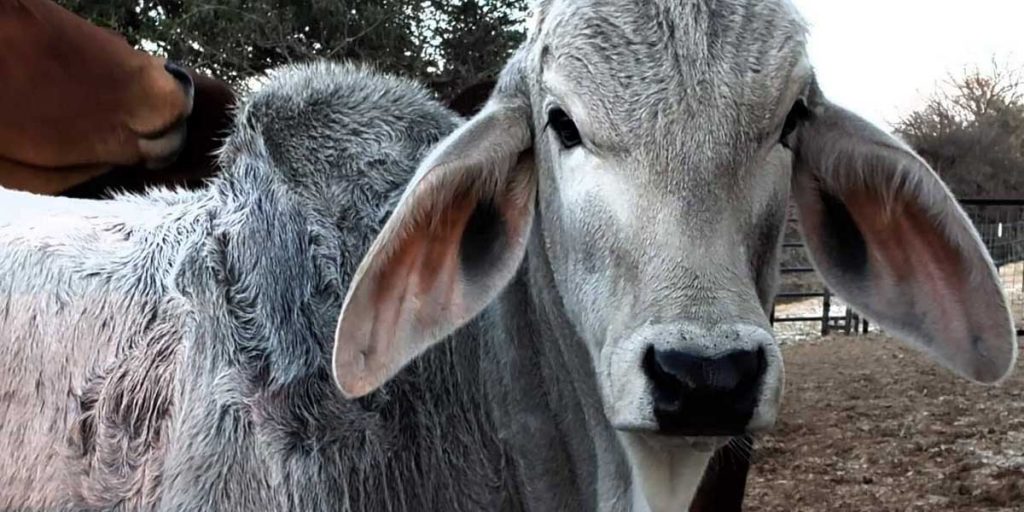 We Fell Hard For The Brahman
This bull stayed with us about a week, and then headed back to Rocky's ranch. Meanwhile, I started researching Brahman. I called and spoke with some Brahman breeders. I reached out to people who love this ancient breed. The more I learned, the more attractive the Brahman became. They have so many unique qualities and are known for their great heartiness, including their remarkable heat tolerance and resistance to parasites. Brahman even enjoy eating grapevines and other weeds and bushes that typical cattle won't eat. I began to realize this breed made so much sense for our ranch. I was sold.
So, I took a leap of faith and sold all our Longhorns and went searching for Brahmans. I was surprised to find I couldn't locate any registered Brahman breeders anywhere close to home. Every credible breeder seemed to be in Oklahoma, south Texas, Louisiana or farther east, heading into Alabama and Florida. I learned Brahman are in short supply and that the demand for Brahman cattle is huge. In fact, many breeders told me they wouldn't sell any of their Brahman heifers because they needed to keep producing calves due to the short supply.
We Worked to Build Our Heard
I found a rancher in Texarkana willing to sell four Brahman. My first four Brahman. These were show calves for stock shows so they were actually halter broke. Next, I found a very respected breeder, a member of the Brahman Association Board, over in Hugo, Oklahoma. There, I purchased a mother and son pair. Son, Superduty, is actually the offspring of a well respected bull they call "Senator." Next, I headed over to Shreveport, LA, and purchased three pretty Brahman from a respected breeder with several national championships to his name. Just a short time later, I went back to Shreveport and purchased another mother and son pair. Again, my purchase boasted a respectable bloodline. The son was the offspring of a beautiful dark grey bull they call "Megatron."
Today, our herd continues to grow though additions from Shreveport and our own organic breeding.
Why We Do What We Do
Gina and I get to spend each evening outside enjoying the beauty of our Brahman and loving on the calves. We are breeding for gentleness and are purposely seeking "polled" Brahman, which means they do not have horns. All of our Brahman are registered and feature excellent bloodlines from several of the top breeders. We sell to individuals we know will love and appreciate the resourcefulness and beauty of these animals the way Gina and I do.
At Lambert's Ranch, you can expect to find quality Brahman for sale. Contact us today to learn more.