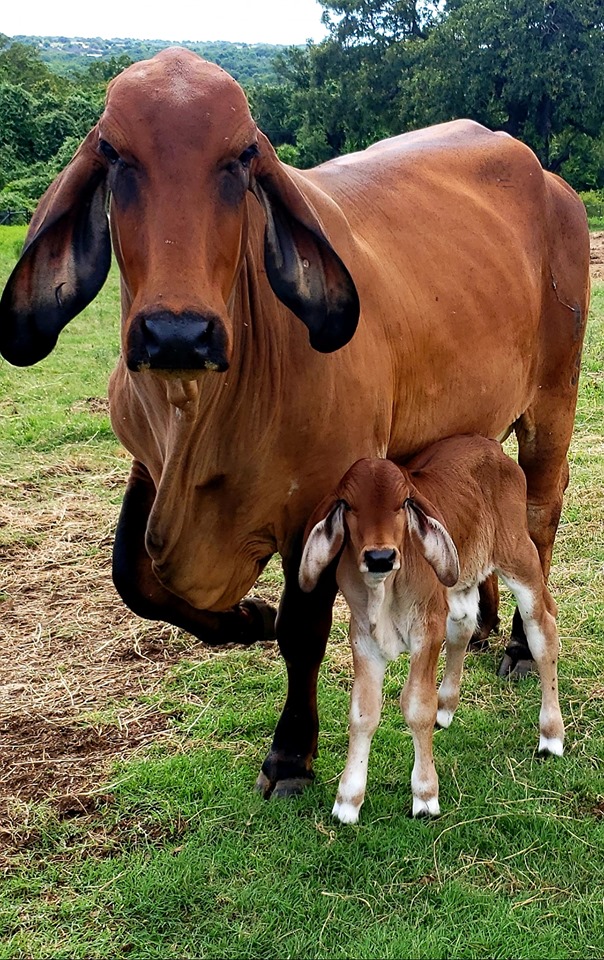 Brahman cattle have a rich history and they are a known for their docile characteristics. Highly adaptable to hot and humid climates and offering notable reproductive traits, Brahman are an excellent choice for ranchers in Texas. At Lambert's Ranch we breed "polled" Brahman, which means we produce Brahman without horns. This results in a nice layered addition to the already docile species. One of the most resilient breeds of cattle in the United States, their popularity continues to grow, and for many good reasons.
Adaptations Conducive to Drought and Heat
To the general population, the Brahman may be best known for their neck hump. The hump is actually a network of honeycomb-like tissues that retains water. The water retention enables the Brahman to withstand hot and arid conditions. Their thick skin, along with their dense, shiny reflective hair, contributes to the breed's ability to hold up against the brutal sun in hot and arid climates.
Data from studies conducted at the University of Missouri underscore the Brahman's adaptability to heat. Researchers found that European cattle begin to show a decline once temperatures go above 70 degrees Fahrenheit. Decline specifics include a decrease in appetite and milk production. In contrast, Brahman cattle appeared to fare well, with little effect from heat up to, and even beyond, 105 degrees Fahrenheit.
Resistance to Parasites
Parasite resistance contributes to the breed's overall heartiness. Brahman cattle have thick skin which can protect them from mites, lice, horn flies and the like. The skin also produces a distinctive odor widely believed to assist with repelling insects.
Beef Industry Value
Within the beef industry, Brahman are known for their carcass yield. They offer remarkable gain efficiency and earn "Choice" cut ratings, featuring limited fat and positive tenderness scores. Their tendency towards less intramuscular fat means less waste.
Lifespan and Reproduction
Polled Brahman can live beyond 20 years. Most females produce viable calves up to 15 years of age. Brahman crossed with other breeds produces offspring with heterosis, or "hybrid vigor," that predicts stronger calves with longer expected lifespans. These factors contribute to a dependable return on investment on the Brahman. Breeding the Brahman with European breed cows produces the highly desired "Brahman F-1" calf.
Why Lambert's Ranch
Our mission at Lambert's Ranch is to ethically breed and raise sturdy Brahman. We have over 25 years of experience in the cattle industry and hold great affection for the animals on our ranch. Cognizant of the fact that this breed quickly responds to the handling they receive, we purposefully manage our Brahman with care and love. In addition to the joy this brings us personally, this produces excellent temperament in the animals we sell. All of our Brahman are registered and feature excellent bloodlines from several of the top breeders in the country. We sell to individuals we know will love and appreciate the resourcefulness and beauty of these animals, just as we do.
We are trying to breed gentleness and also polled which means they don't have horns. This is important as far as the direction of our ranch.
We continue to breed calves to add to our herd.
All of our Brahmans are register with great bloodlines from several of the top Breeders.
We will sell to selective individuals that will love and enjoy their beauty like we do.
We spend each evening outside loving in the calves and enjoying the Brahmans beauty.
At Lambert's Ranch, you can expect to find quality Brahman for sale. Here you can review our current inventory. Contact us today to learn more.
Senator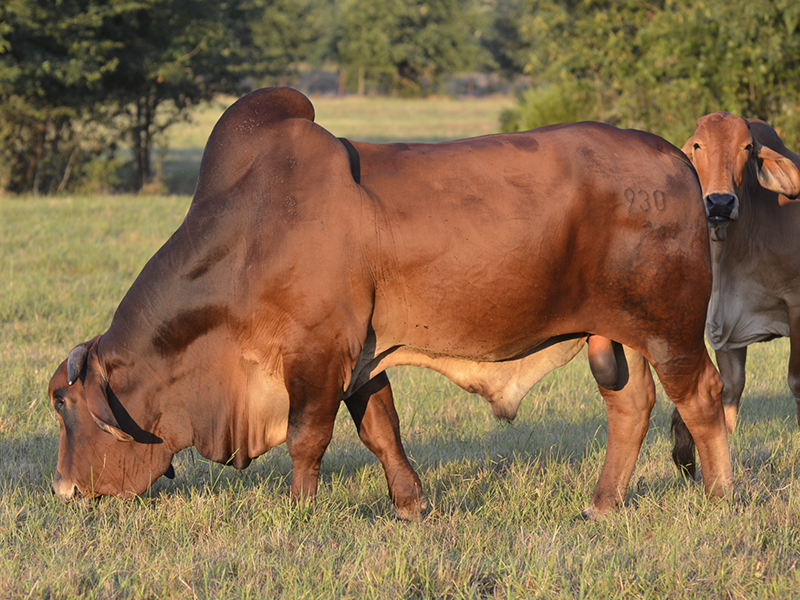 DOB: 02/23/2012
Sire: DB GOVERNOR 405/6 (B 860135)
Dam: DB SOUTHERN STYLE 653/9 (C 881475)
Dams Sire: MR. JS 350/8 (B 835450)
Sex: BULL
Color: RED
Imported: NO
Ronaldo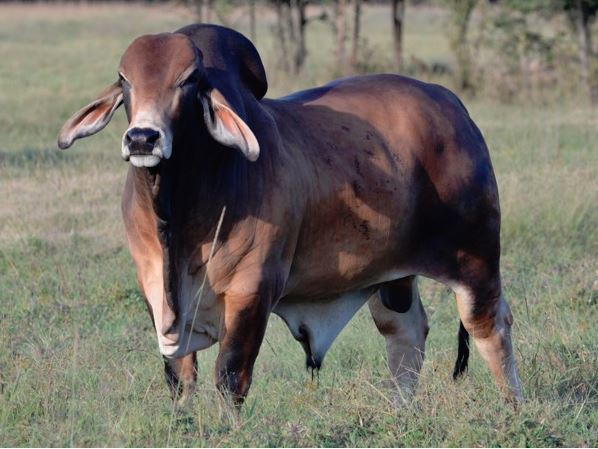 DOB: 03/25/2014
Sire: LMC POLLED CHARLEY 291/0 (P) (B 897099)
Dam: NC MAGGIE WRIGLEY 46 (C 888861)
Dams Sire: +MR WINCHESTER MAGNUM 999 (B 832160)
Sex: Bull
Color: Red
Imported:
Pistolero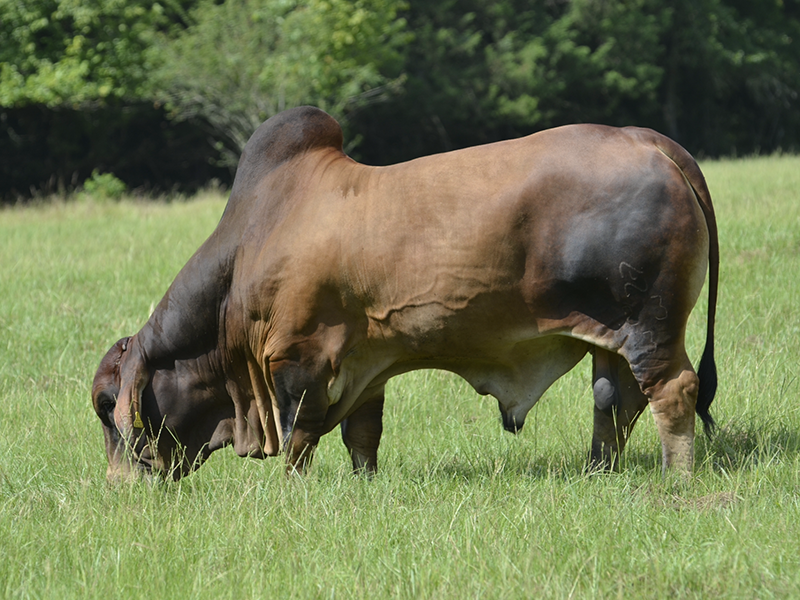 DOB: 05/15/2013
Sire: +SRS MR. TROUBADOR 933 (B 875813)
Dam: LADY HERITAGE 176 (C 797653)
Dams Sire: VL ROJO GRANDE 4/95 (B 721429)
Sex: BULL
Color: RED
Imported: YES
Super Duty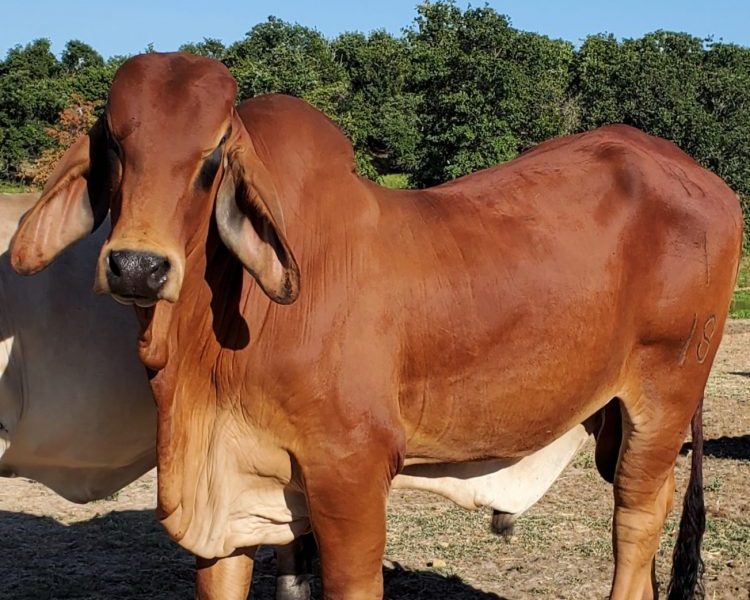 DOB: 01/14/2018
Sire:
Dam:
Dams Sire:
Sex: BULL
Color: RED
Imported: NO
Comacho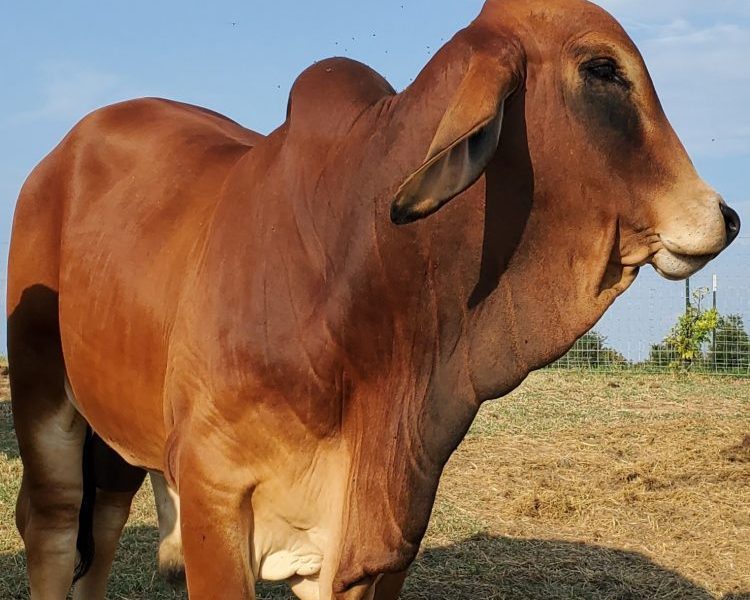 DOB: 02/16/2019
Sire:
Dam:
Dams Sire:
Sex: BULL
Color: RED
Imported: NO